See interview with Lissa at
www.beachboundbooks.com/lissa-brown.html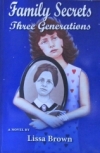 See this great review in Midwest Book Review.
http://www.midwestbookreview.com/rbw/apr_12.htm#christy
Sensitive, poignant examination of the transcendent relationships across the multi-generational bridge of motherhood. . . replete with valuable insights into the powerful and mysterious bonds of maternal relationships. Must-read for those who value the integrity of the family.
Mike Leach, author of Lords of Circumstance
Excellent read ... starts as a new twist on the fairy godmother fable, but surprises the reader midstream by becoming an affecting exploration of family conflicts.
Nora Percival, author of Weather of the Heart
Characters are so real I expected to find them sitting in my living room each time I put the book down. A touching, thought-provoking story of family conflict and the power of inter-generational love.
Marcia Cham, author of You Mean I Have to Look at the Body?
Vivid scene-setting provided the perfect stage for this heart-warming story of a girl and her grandmother...easy style that brings her characters to life, showing their frailties and strengths as they cope with the challenges of everyday life. . .the ending knocked my socks off and left me hoping for a sequel.
Maggie Bishop, author of The Appalachian Adventure Mystery series
Characters and setting come to life in this story of the power of love across the generations. We may hope her imaginative portrayal contains the truth of life beyond what we know.
Judith Geary, author of Getorix: Games of the Underworld
YA Librarians Take Notice! Having worked with adolescents the majority of my career, I am impressed by how well the author captures the unique mix of discovery, bravado, vulnerability and angst common to the age. there is an unfortunate dearth of YA fiction with Jewish themes/characters in our school collections, and this book would be a good addition. Recommended!
Kathy Reynolds, school librarian, Ohio
Real Country: From the Fast Track to Appalachia, (written as Leslie Brunetsky) a humorous memoir of my first 18 months living in the heart of southern Appalachia. Buy signed copies at LissaBrownWrites.com or unsigned at Amazon.com in Kindle format. Also purchase at www.smashwords.com
Check out Lissa's essay,"Learning to Speak Southern" in Western North Carolina Woman Magazine's April 2011 issue at
http://wnc-woman.com/april11/page54.html